Examples¶
The following contains example yamls for all of the resources which makeup the Network Policy API.
Sample AdminNetworkPolicy and BaseLineAdminNetworkPolicy Resources¶
These examples will start with the object yaml defintions used to implement the core use cases. Please feel free to contribute more examples that may seem relevant to other users :-).
Sample Spec for Story 1: Deny traffic at a cluster level¶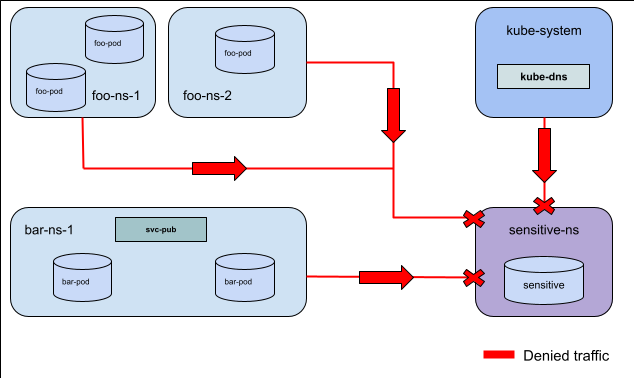 apiVersion

:

 

policy.networking.k8s.io/v1alpha1




kind

:

 

AdminNetworkPolicy




metadata

:




  

name

:

 

cluster-wide-deny-example




spec

:




  

priority

:

 

10




  

subject

:




    

namespaces

:




      

matchLabels

:




        

kubernetes.io/metadata.name

:

 

sensitive-ns




  

ingress

:




    

-

 

action

:

 

Deny




      

from

:




      

-

 

namespaces

:




         

namespaceSelector

:

 

{}




      

name

:

 

select-all-deny-all



Sample Spec for Story 2: Allow traffic at a cluster level¶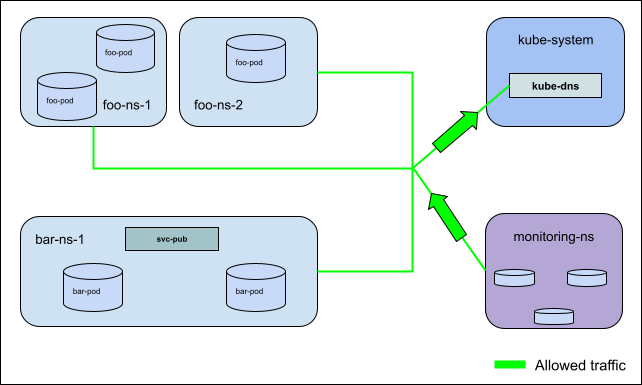 apiVersion

:

 

policy.networking.k8s.io/v1alpha1




kind

:

 

AdminNetworkPolicy




metadata

:




  

name

:

 

cluster-wide-allow-example




spec

:




  

priority

:

 

30




  

subject

:




    

namespaces

:

 

{}




  

ingress

:




    

-

 

action

:

 

Allow




      

from

:




      

-

 

namespaces

:




          

namespaceSelector

:




            

matchLabels

:




              

kubernetes.io/metadata.name

:

 

monitoring-ns




  

egress

:




    

-

 

action

:

 

Allow




      

to

:




      

-

 

pods

:




          

namespaces

:




            

namespaceSelector

:




              

matchlabels

:




                

kubernetes.io/metadata.name

:

 

kube-system




          

podSelector

:




            

matchlabels

:




              

app

:

 

kube-dns



Sample Spec for Story 3: Explicitly Delegate traffic to existing K8s Network Policy¶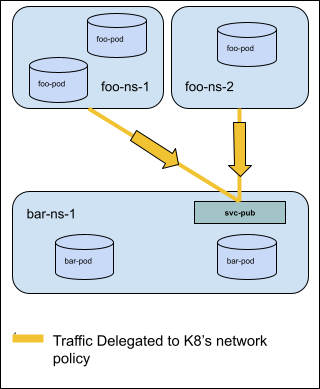 apiVersion

:

 

policy.networking.k8s.io/v1alpha1




kind

:

 

AdminNetworkPolicy




metadata

:




  

name

:

 

pub-svc-delegate-example




spec

:




  

priority

:

 

20




  

subject

:




    

namespaces

:

 

{}




  

egress

:




  

-

 

action

:

 

Pass




    

to

:




    

-

 

pods

:




        

namespaceSelector

:




          

matchLabels

:




            

kubernetes.io/metadata.name

:

 

bar-ns-1




        

podSelector

:




          

matchLabels

:




            

app

:

 

svc-pub




    

ports

:




    

-

 

portNumber

:




        

protocol

:

 

TCP




        

port

:

 

8080



Sample Spec for Story 4: Create and Isolate multiple tenants in a cluster¶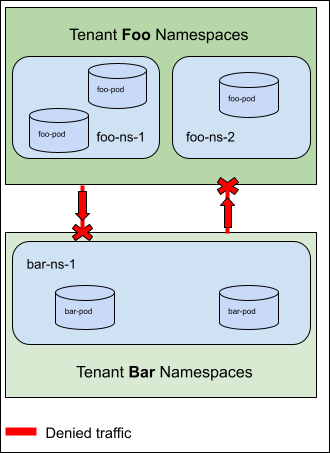 apiVersion

:

 

policy.networking.k8s.io/v1alpha1




kind

:

 

AdminNetworkPolicy




metadata

:




  

name

:

 

tenant-creation-example




spec

:




  

priority

:

 

50




  

subject

:




    

namespaces

:




      

matchExpressions

:

 

{

key

:

 

"tenant"

; operator

:

 

Exists

}




  

ingress

:




    

-

 

action

:

 

Deny




      

from

:




      

-

 

namespaces

:




          

notSameLabels

:




          

-

 

tenant



This can also be expressed in the following way:
apiVersion

:

 

policy.networking.k8s.io/v1alpha1




kind

:

 

AdminNetworkPolicy




metadata

:




  

name

:

 

tenant-creation-example




spec

:




  

priority

:

 

50




  

subject

:




    

namespaces

:




      

matchExpressions

:

 

{

key

:

 

"tenant"

; operator

:

 

Exists

}




  

ingress

:




    

-

 

action

:

 

Pass

 

# Pass inter-tenant traffic to any defined NetworkPolicies




      

from

:




      

-

 

namespaces

:




          

sameLabels

:




          

-

 

tenant




    

-

 

action

:

 

Deny

   

# Deny everything else other than same tenant traffic




      

from

:




      

-

 

namespaces

:




          

namespaceSelector

:

 

{}



Sample Spec for Story 5: Cluster Wide Default Guardrails¶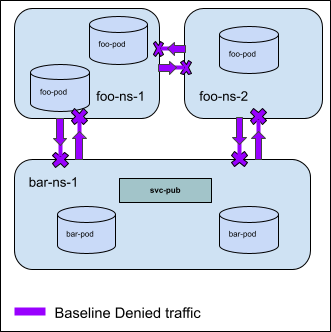 apiVersion

:

 

policy.networking.k8s.io/v1alpha1




kind

:

 

BaselineAdminNetworkPolicy




metadata

:




  

name

:

 

default




spec

:




  

subject

:




    

namespaces

:

 

{}




  

ingress

:




    

-

 

action

:

 

Deny

   

# zero-trust cluster default security posture




      

from

:




      

-

 

namespaces

:




          

namespaceSelector

:

 

{}